The Kia Soul Hamsters are Back to Bring Music, Fun, Turbo Model

Kia Hamsters Share Some Soul Ad World Needs More Soul Campaign
What do you get when you mix dozens of musicians, a park on a sunny day, and the Kia Soul hamsters? A lot of fun, of course. As well as unity and togetherness. Which is precisely what the latest Kia Soul campaign, "The World Needs More Soul," wants to achieve.  Read on for details about the campaign and to see the extended video of the fun commercial, "Share Some Soul," where the music-inclined hamsters spur on a "Soul Jam."
Find a Kia Soul, 5 Months No Payments
The World Needs More Soul – Kia Soul, That Is
As you can see in the commercial, the Soul hamsters start out quietly, matching musical wits with Nathaniel Rateliff, but eventually it seems like everyone in the city with an instrument is at the park, joining in on the "Soul Jam," and adding to the fun. Which is what the Kia Soul crossover (and its eco-friendly version, the EV) is all about – being unique, having fun and showing off a sense of youthful style.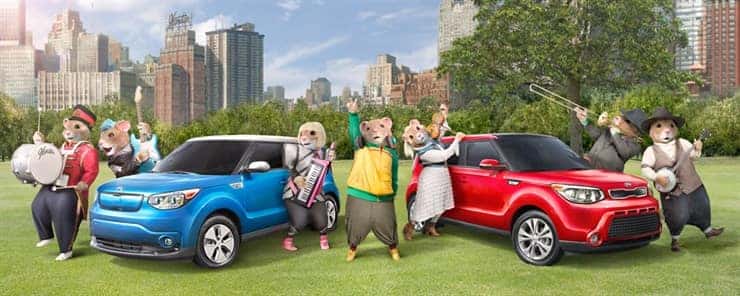 With Kia rolling out a new generation of hybrid and electric vehicles during the remainder of 2016, including the Kia Optima Hybrid and the Kia Niro HUV, to go along with the Kia Soul and other fun, stylish models like the Forte compact and the Sportage crossover, the world won't just need more soul, it might well need everyone to add space in their garage for all the new Kias they're going to get.
In addition, at the end of the commercial that's airing on TV, you can see that there will be a Kia Soul Turbo model coming in the winter of 2016 – stay tuned for updates on that as more details become available.  Our best guess is it will take on an engine much like other turbocharged Kia models have, which would give the Soul a boost to somewhere between 178 and 210 HP, up from its maximum of 164 right now.  But whatever it does mean, we're excited to see what else this Soul Turbo model entails.
Test Drive a Kia Soul at Patterson Kia of Wichita Falls
Patterson Kia of Wichita Falls is located at 2910 Old Jacksboro Highway in Wichita Falls TX.  To get in touch with us please call us at (877) 763-7209 or visit us on the lot.  For information about local events or Kia releases check back here at the Patterson Kia of Wichita Falls blog.